Running Toward Mystery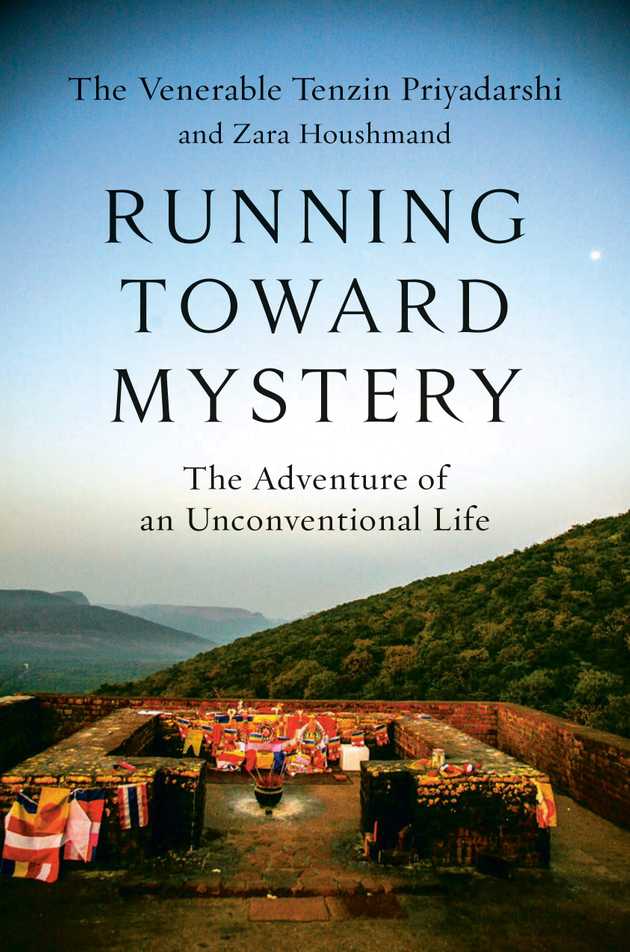 In a modern world that is increasingly disenchanted, Tenzin Priyadarshi's "Running Towards Mystery" provides a necessary and captivating narrative of spiritual courage and truth seeking far beyond the veil of our contemporary delusions.
—Sting
"Running Towards Mystery" is not merely a book, but an experience, a biography, a formula for living, and a manifesto for a new kind of exploration of life… This book produces a kind of joy — and a nudge towards curiosity — that only few books can provide. It is, at the same time, a pathway and a journey. I could not put it down.
—Siddhartha Mukherjee, Pulitzer Prize Winning Author of The Emperor of All Maladies
This is a remarkable story of an extraordinary person - a very unusual journey of faith and commitment - which seems at the same time rooted in the most ancient context and connected to our most modern preoccupations. It gives a powerful insight into contemporary spirituality and living Buddhist culture.
—Rory Stewart, New York Times bestselling author of The Places in Between and Former Member of UK Parliament
Told with honesty and elegance, Priyadarshi's story is utterly amazing.
—Robert A. F. Thurman, Jey Tsong Khapa professor emeritus, Columbia University
Enthralling from beginning to end, "Running Toward Mystery" encourages us all to connect with our deeper and higher self. Venerable Tenzin's journey, which seamlessly traverses multiple worlds, is awe-inspiring.
—Arianna Huffington, founder & CEO, Thrive Global
Compelling…. In this wise and searching journey Priyadarshi fearlessly engages with the mystery of life and explores the visible and invisible connections that comprise our "vast web" of being. A spiritual memoir with plenty of food for thought.
—Kirkus Reviews
An extraordinary monk, Tenzin Priyadarshi is the Thomas Merton of our times.
—Donald Morrison, former COO, Research in Motion (Blackberry)
Tenzin's relentless spirit and honest nature can be a model for anyone seeking peace and purpose in their lives.
—Mellody Hobson, co-CEO, Ariel Investments
This is a remarkable story and quest, filled with insights on leading a life of compassion, discipline, and integrity.
—Adam Grant, New York Times bestselling author of Give and Take and Originals
"Enlightened beings only appear to come and go, making themselves available for a time in this faltering world, but in reality they are never gone. Enlightened beings are always present here and now if you truly yearn to see them…"
Born in India to a prominent Hindu Brahmin family, the Venerable Tenzin Priyadarshi was only six years old when he began having visions of a mysterious mountain peak, and of men with shaved heads wearing robes the color of sunset. "It was as vivid as if I were watching a scene from life," he writes. And so at the age of ten, he ran away from boarding school to find this place—taking a train to the end of the line and then boarding a bus to wherever it went. Strangely enough, he ended up at a Buddhist monastery that was the place of his dreams. His frantic parents sent scouts to find him and, after two weeks, located him and brought him home. But he continued to have visions and feel a strong pull to a spiritual life in a tradition that he had never heard of as a child. Today, he is a revered monk and teacher as well as President & CEO of The Dalai Lama Center for Ethics and Transformative Values at the Massachusetts Institute of Technology, where he works to build bridges among communities and religions. He is also director of the Ethics Initiative at the MIT Media Lab.
Running Toward Mystery is The Venerable Tenzin Priyadarshi's profound account of his lifelong journey as a seeker. At its heart is a story of striving for the unseen, the vital importance of mentors in that search, and of the many remarkable teachers he met along the way, among them the Dalai Lama, Desmond Tutu, and Mother Teresa. "Teachers come and go on their own schedule," Priyadarshi writes. "I clearly wasn't in charge of the timetable and it wasn't my place to specify how a teacher should teach…" But arrive they did, at the right time, in the right way, to impart the lessons that shaped a life of seeking, devotion, and deep human connection across all barriers. Running Toward Mystery is at once the bracing and beautiful story of a singular life compelled to contemplation, and the riveting narrative of just how exciting that journey can be.
Reviewed by Linda Heuman in Tricycle Magazine
In 2007, I was in India doing research for what I envisioned as a creative retelling of the monk Atisha's extraordinary journey a thousand years ago, when he sailed to the far side of the world to find his teacher, guided only by a dream. But then I happened to sit next to the Venerable Tenzin Priyadarshi on a flight, and he told me the beginning of his own journey's story, setting off as a child, guided by dreams, on a seeker's quest that would lead him to remarkable teachers. The auspicious serendipity of that first meeting led me down a path that has taken many unexpected turns in the magical dance between life and art, to a book that stands on its own terms quite uniquely. 
Available From
---